You've probably enjoyed sesame seeds sprinkled on your hamburger buns or tasted their unique nutty flavour in an Asian dish.
These tiny treats are such people pleasers, it's only natural to think they would be a hit with birds too.  But, that begs the question, can birds eat sesame seeds?
Yes, Birds can eat sesame seeds. Birds love these special specks because they are packed with nutrients, and are bite-sized for even the smallest of the flock.
In fact, they would happily eat only these seeds if enough of them were available.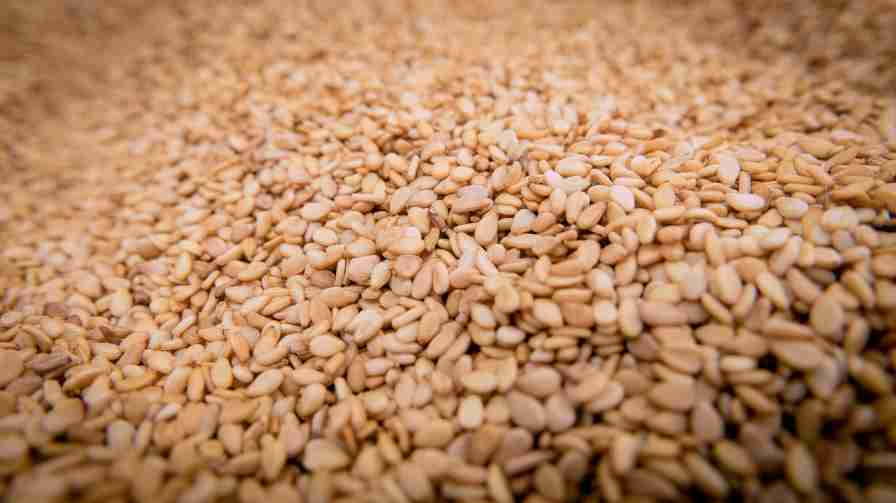 While that makes sesame seeds sound like the perfect feed, the reality is more complicated. Just because birds like the taste of something, that doesn't mean it's healthy for them to eat it to the exclusion of all else.
So, hold off on buying that family-sized bag of sesame seeds to fill your feeder. First, let's explore the pros and cons of this feed, starting with how it should be prepared.
Keep Bird Food off the floor with a Feeding Station
How Do I Prepare Sesame Seeds For Birds To Eat?
Placing sesame seeds out to be eaten is simple. You can pour a handful of seeds onto your bird table or tray, load them into a seed feeder, or simply scatter them around the yard for birds to discover.
Mixing them with larger seeds is a good way to make sure smaller birds aren't competing with their larger peers for feed.
Usually, the sesame seeds we consume are of the roasted variety. Exposing them to heat brings out their flavour, and gives them a crunchier texture.
Birds are happy to consume them this way as well. Raw sesame seeds are actually slightly more nutritious, however, so toasting them isn't required.
As with many seeds, there are hulled and unhulled varieties available. You should opt for the latter, as the hulling process removes a significant percentage of the seed's nutrients.
What about a Bird Station to make feeding bird easier?
Disclosure:  Shaun Bird, Owner of Bird Feeder Expert is a participant in the Amazon Services LLC Associates Program, an affiliate advertising program designed to provide a means for sites to earn advertising fees by advertising and linking to Amazon.com and Amazon.co.uk
Notably, the calcium content is far greater in unhulled sesame seeds, which is of particular importance to a healthy avian diet.
You can also serve sprouted sesame seeds, which are perhaps the best variety. Sprouted seeds are those from which the plant has begun to grow.
The sprouting process creates a number of enzymes that aid in seed digestion and nutrient absorption.
As an added benefit, the sprout consumes some of the fat as it grows, converting it into other compounds. While you can soak raw seeds to make them sprout, the safest option is to buy ready-to-eat sprouted seeds from the store.
Are Sesame Seeds Good For Birds?
Sesame seeds are great for birds, but they must be fed in moderation. While they contain several of the components necessary for a bird's healthy diet, the proportions are not optimal.
The dominant nutrient these seeds offer is fat, in the form of oil. While this fat is healthy, and birds do consume diets high in fat, there is a limit.
What this limit is varies from species to species, but a diet made up of mostly sesame seeds will likely exceed it while failing to provide adequate overall nutrition.
Choosing sprouted seeds lessens the fat content, but poses a different kind of health risk. The bacteria E. coli and salmonella are commonly found on sprouts and greens.
That's why I suggest you only buy sprouts labelled ready-to-eat, as this means they have been prepared using sanitary practices and are free of bacteria.
As part of a balanced feed mixture, sesame seeds have much to offer. Besides the aforementioned fat content, which is especially useful during the colder months, these seeds are high in calcium and protein.
They also contain the unique enzymes sesamin and sesamolin, proven to help regulate avian blood pressure.
Sesame seeds also contain the following nutrients:
Iron
Magnesium
Manganese
Niacin
Thiamine
Vitamin B6
Zinc
Animal studies have also shown them to have anti-inflammatory properties and to be full of antioxidants.
This means that they provide birds with some protection from the ill effects of environmental toxins, while also breaking down the free radicals such toxins create in their bodies.
So, while you don't want to create an all-you-can-eat sesame seed buffet for your flying friends, you should definitely add these seeds to the menu.
Just be prepared to set the bird table for a bigger crowd once the word gets around!