Hummingbirds are beautiful and interesting creatures. But did you know that they are also quite complex? Especially when it comes to their diet. Hummingbirds eat a variety of different things.
Like most birds, hummingbirds enjoy plants, seeds, and flower nectar. But do they like to eat bugs and insects too? And if yes, then what kind of insects?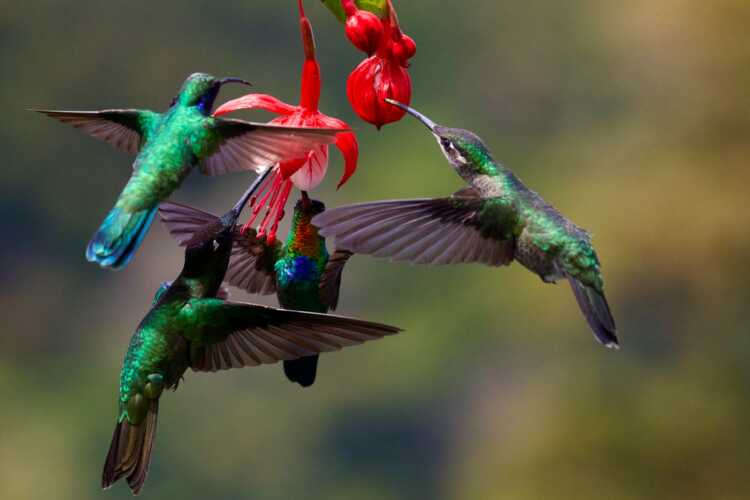 Quick Answer
Hummingbirds do like to eat bugs and insects for a varied diet. They eat various smaller insects to get the necessary nutrients, vitamins, and minerals in their diet and can eat up to 100 insects per day. Some insects that hummingbirds eat include flies, beetles, spiders, mosquitoes, ants, and gnats. 
Let's take a more detailed look at the different insects a hummingbird might enjoy eating on a day-to-day basis.
What Kinds of Bugs Do Hummingbirds Eat?
Hummingbirds eat bugs that are easy for them to access and small enough to eat. While other birds can break apart and dissect bigger insects, hummingbirds have trouble doing so and stick to smaller insects. Here is a breakdown of which bugs hummingbirds enjoy eating:
Flies: Because of the shape and formation of a hummingbird's beak, the hummingbird can quickly and precisely catch insects mid-flight. For this reason, they can eat up to a hundred flies a day.
Beetles: There are over 400,000 species of beetles found in the world. Hummingbirds usually eat a few readily available and more common kinds of beetles, such as ground beetles and tiger beetles.
Spiders: Hummingbirds eat small spiders quite often and enjoy eating spider mites. They have also sometimes been known to use spider webs as part of their nest-building materials.
Mosquitoes: Hummingbirds eat plenty of mosquitoes daily, especially in summers when mosquitoes are abundant. In fact, hummingbirds play a big role in controlling mosquito populations and helping humans out by keeping their numbers low.
Ants: Ants are a great source of nutrients for hummingbirds and a good choice to eat because they are social insects, and hummingbirds can find hundreds of ants in one place. This makes catching food much easier and quicker.
Gnats: Several kinds of small flying insects are called gnats. Hummingbirds eat gnats because gnats fly around in swarms so that they are easy to access. Gnats are also attracted to ripe fruits that hummingbirds would be interested in.
What Is a Hummingbird's Main Diet Made Up of?
Although hummingbirds are tiny and average between 3 and 5 inches in size, they have pretty large appetites. A hummingbird might eat up to half of its body weight worth of food in a day. But what exactly do hummingbirds eat? A common assumption is that they are attracted to sweet things like fruit and nectar, and for the most part, this is true.
Sweet nectar from different flowers makes up most of the hummingbird's diet. Some flowers that attract hummingbirds are daylilies, lupines, foxgloves, and petunias.
They also suck up juice from ripe fruits like berries, oranges, pears, and persimmons. However, sweet nectar and juices are not enough for a balanced diet and cannot sustain the birds.
To make up for the lack of protein, vitamins, minerals, oils, and fats essential for them, they eat bugs and insects. Hummingbirds prefer to eat the bugs while flying, so their diet is mainly made up of flies, mosquitoes, gnats, and other flying insects.
How Does the Shape of the Hummingbird's Beak Allow It to Catch Insects?
The hummingbird's beak – also known as its bill – is long and slender and deceptively flexible and strong. Not only that, but a hummingbird can snap its beak shut extremely fast in what is called a "controlled elastic snap." Some scientists have recorded that a hummingbird can snap its beat shut in a hundredth of a second. Because of how fast and strong the bird's beak is, it is very well equipped to catch insects and bugs mid-flight in about a quarter of a second.
How Does the Shape of the Hummingbird's Tongue Help It Drink Nectar?
When it comes to drinking nectar, the tongue is an important part of the bird's anatomy, and the beak is just a protective sheath for the tongue. A hummingbird's tongue has a forked tip that springs open to gather up nectar in between the forks, almost like a straw. It can also move incredibly fast and can lap between 15 to 20 times per second. This allows the hummingbird to lap up the nectar from different flowers quickly.
Does A Hummingbird's Diet Change in Winter?
Because hummingbirds are so small, they need to keep extra warm in the winters, and they do this by consuming lots of extra nectar.
The sucrose in the nectar provides them with enough energy to keep them going. In addition to nectar, hummingbirds will drink the juice from different cold season fruits like oranges, grapes, and berries. They will also look for insects and bugs, usually hidden in plants and tree bark for shelter against the cold.
Do Hummingbirds Drink Water?
Hummingbirds do not actually need to drink water. This is because they get all of their hydration and quite a bit of nutrition from the nectar they drink. Although they do not drink water, this does not mean that they do not need water for other things. A hummingbird might visit a body of water or a birdbath to bathe itself and for preening. Keeping their feathers clean is essential for allowing the birds to fly at high speeds.
Hummingbirds Are Known as Opportunistic Feeders
Hummingbirds are opportunistic feeders because they wait around for food to present itself in most cases. For example, a hummingbird will wait for a fruit to become overripe and fall from trees. When it falls, the bird will quickly suck up the juice from the fruit.
Another example is that hummingbirds often wait around for woodpeckers to peck apart tree bark and expose the sap, which they then drink.
Wrap up
While hummingbirds are most famously known to drink nectar from fruits, their diet is not based entirely on nectar. They eat different bugs and insects for additional nutrition that they cannot get from just nectar. Some of the insects they enjoy are flies, beetles, spiders, mosquitoes, ants, and gnats.
Now that you know what hummingbirds eat, do you think you'll leave out some fruits and insects in a birdfeeder for them? Let us know in the comments below.