Many people that have blueberry bushes growing in their garden or extruding from a neighbouring property quite often see their delicious produce disappearing without even picking it.
I'm guessing you've began to see more and more small birds darting from branch to branch in your bramble and you're thinking, can birds eat blueberries?
Then the answer is yes, birds can and love to eat blueberries and almost every type of berry that is healthy for a human to eat is equally as healthy for a bird too.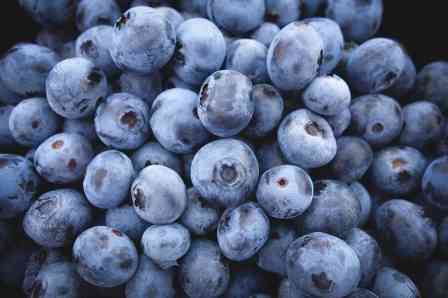 Blueberries also grow wild in the country and birds have been picking the ripe berries off of bushes as long as there have been bushes.
In fact, if you have a blueberry bush in your yard the chances of the birds getting to your berries before you do is the norm…
Why do Birds Eat Blueberries?
There are several bird species that eat a diet full of fruit all year long. Robins and mockingbirds are two such species. However, even birds that eat a diet consisting of mostly nuts and seeds will start to eat blueberries if they have a long migration ahead of them.
You might see sparrows and warblers mowing down on blueberries as their migration approaches for example. The birds require a high-fat diet in order to make their migration and it appears that there's something in the blueberries that helps lower their stress levels so that they can make the journey.
Blueberries are high in antioxidants which help a bird's digestive health and cardiovascular health. Blueberries are also loaded with vitamins that are essential for your backyard bird's health.
Vitamin C is found in high amounts in blueberries and this vitamin plays a role in keeping your backyard bird's immune systems up. They also contain B vitamins that help them turn food into energy.
This is another reason why they're so great for migrating birds.
How to Feed Blueberries to Birds?
The best way to feed berries to birds is to plant some blueberry bushes in your backyard! The birds that love fruit year-round will enjoy them and it will also allow the migrating birds to have their fill when it's time to prepare for migration.
If you already have blueberry bushes for your own use in your yard consider adding a few more bushes so that you and your feathered friends can share them with plenty to go around for all.
Make sure that when you offer blueberries to your birds that you do so in addition to other food. Wild birds usually find a good mixture of food on their own but if they've become too dependant on your feeders they might fill up on what's available and too many blueberries can cause problems in your birds.
It should be fed as a treat and an addition to a healthy diet, not the whole diet
If you're putting berries out for your birds because you don't have the room to grow them then you should choose a flat dish and offer the blueberries on this dish. If you have migrating birds in your area then be sure to put out extra blueberries around the time of their migration.  Blueberries can be bought frozen for better storage.
They'll thank you for it and you'll get the benefit of seeing a greater variety of birds at your feeders.